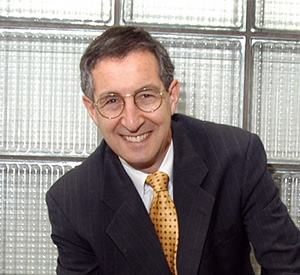 Executive Director, Deshpande Center for Technological Innovation, MIT

As Executive Director of the Deshpande Center for Technological Innovation, Leon Sandler wears many hats: He is responsible for guiding the center's strategic direction, ensuring successful execution of its mission, and managing day-today operations.
With a strong background in the assessment of technologies for commercialization, Mr. Sandler leads a process the center calls "select, direct and connect". Through this process, faculty research projects are chosen to receive Deshpande Center grants, based on a project's potential commercial and social impact. Research teams then receive intensive guidance in how to bring their inventions to the marketplace and form new spinout companies.
Among his related duties Mr. Sandler:
• Mentors faculty and student researchers
• Coaches and lectures on technology innovation and entrepreneurship at the MIT Trust Entrepreneurship Center and the MIT Sloan executive education program
• Advises organizations around the world on how to move technologies from the lab to the marketplace
• Serves as the Deshpande Center's fundraiser-in-chief, responsible for keeping the center on a sound financial footing.
To ensure the success of all these activities, Mr. Sandler builds and continually renews a broad network of relationships. These include connections within MIT's well-developed entrepreneurial ecosystem and external ties with venture capitalists, corporate supporters, government agencies, and educational institutions.
Business, Entrepreneurial and Educational Background
Before joining the Deshpande Center in 2006, Leon Sandler held senior positions in general management, marketing, finance and business development at companies such as Boston Consulting Group, Eastman Kodak, Texas Instruments and Digital Equipment Corporation. He founded the consulting firm Monmouth Group, where he provided management, marketing and business development assistance to over twenty early-stage companies. This included co-founding and serving as the CEO of Nuvonyx, a maker of industrial laser systems; serving as CEO of several start-ups; and assisting many ventures as an interim executive or advisor.
Mr. Sandler received his B.S. degree in 1971 and his M.S. in Chemical Engineering in 1973 from Natal University in South Africa, and his M.B.A. in 1977 from the Stanford Graduate School of Business.